Twitter has come under fire in recent days for what some critics claim is a permissive attitude toward abusive content on the social media platform.
Interested in
Twitter?
Add Twitter as an interest to stay up to date on the latest Twitter news, video, and analysis from ABC News.
But on Friday night, CEO Jack Dorsey said changes are coming.
In a series of tweets, Dorsey acknowledged that Twitter is "still not doing enough" to restrict abusive or harassing content.
"We've been working intensely over the past few months and focused today on making some critical decisions," he tweeted.
"We decided to take a more aggressive stance in our rules and how we enforce them," he wrote.
He promised, "New rules around: unwanted sexual advances, non-consensual nudity, hate symbols, violent groups, and tweets that glorifies violence. These changes will start rolling out in the next few weeks. More to share next week."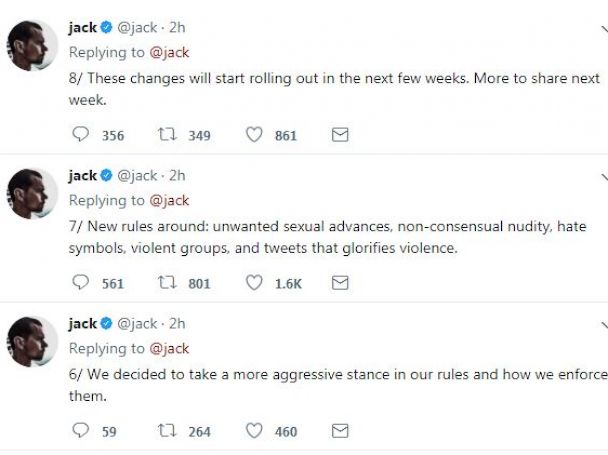 Twitter was hit Friday with an online boycott, using the hashtag #WomenBoycottTwitter, after actress Rose McGowan's account was suspended temporarily for violating the site's for posting another person's phone number. Critics drew a correlation between Twitter's silencing of McGowan and her accusing movie producer Harvey Weinstein of alleged sexual misconduct (a rep for Weinstein has denied any non-consensual sexual activity took place between any of of his accusers).
"We have been in touch with Ms. McGowan's team," Twitter said in a statement. "We want to explain that her account was temporarily locked because one of her Tweets included a private phone number, which violates our Terms of Service. The Tweet was removed and her account has been unlocked. We will be clearer about these policies and decisions in the future."