The TAKE with Rick Klein
This was the week of Sam Nunberg, Gary Cohn, and Jeff Sessions vs. Jerry Brown; of Hope Hicks being hacked, Kellyanne Conwayviolating the Hatch Act, and Jared Kushnertraveling to Mexico; of a Dreamer deadline blown past, stalled action on guns, the reversal of a trophy ban, and news President Trump had asked witnesses about conversations with the special counsel. Stormy Daniels got a cameo, too.
But cutting through the noise were tectonic shifts in policy – generation-defining movements on the foreign and domestic fronts that could rock the economy, national security, and politics for a long time to come.
The president capped the week in which he declared "I like conflict" by taking what could be a big step toward resolving one of the world's longest-running ones – or – a step closer to war. He announced a willingness to meet with North Korea's leader despite public and private proclamations from his top aides and without apparent consultations with major allies.
That came just hours after the president, who famously declared "Pittsburgh, not Paris," made the ultimate Pittsburgh play, slapping tariffs on steel and aluminum imports. This, despite leaders in his own party, and several of his own top advisers, telling him he was making an economy-rattling mistake.
Trump is betting – again – on himself. The through-line in the chaos is that Trump is driving, along with own brand of hectic leadership, his own version of ideology, and his own sensibilities.
The RUNDOWN with MaryAlice Parks
As exaggerated political fights this week in individual congressional districts made clear, the Democratic Party as a whole is still struggling to define itself.
The week began with a ham-handed move from the Democratic Congressional Campaign Committee backfiring — royally.
Its effort to disqualify a fellow Democrat on the ballot in Texas, Laura Moser, only propped her up and proved the far-left's willingness to join any fight against the Democratic Party establishment. The episode also raised questions about what exactly Washington Democrats are worried about.
Was it Moser's aggressive ad about the need for gun safety? Was she too progressive on health care? The negative lines they had on her just didn't seem to add up, leaving many to wonder what policy positions they thought left them vulnerable in that race.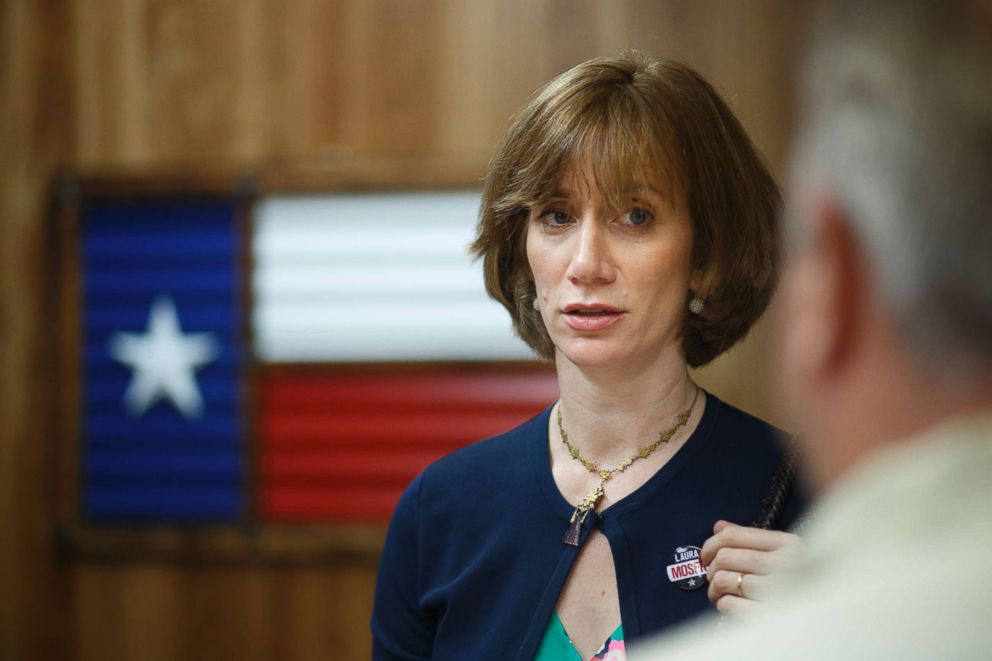 By the end of the week, it was clear DCCC officials planned to keep up their aggressive efforts to weed out their own Democratic fields.
What's more, a race against an incumbent Democrat that's been heating up for a while now put the time-honored "Bernie Sanders vs. the old guard" divide once again front and center.
In Illinois, Nancy Pelosi has decided that she will continue to back an incumbent congressman despite loads of women's and progressive groups — and Sanders — saying his positions on reproductive issues and health care mean it's time for him to go.
The TIP with Ali Rogin
Sens. Lindsey Graham, R-S.C., and Richard Blumenthal, D-Conn., have introduced a bill that would allow federal courts to issue temporary restraining orders to prevent people deemed dangerous from getting access to firearms.
It would impose the same standard for federal courts in all 50 states – making it different from a measure introduced by Florida Sens. Marco Rubio, a Republican, and Bill Nelson, a Democrat, that would simply encourage states to come up with their own restraining order programs in local courts, and make grant money available for them to do so.
Should the Graham/Blumenthal bill become law, it would allow law enforcement officials to go to a federal judge or magistrate and provide probable cause that a person warrants a restraining order that allows officials to remove his or her guns. After 72 hours, that person would have access to a hearing to challenge the order.
Graham, who said he owns an AR-15, said lawful gun owners should not fear this legislation. "This is not about losing your gun rights easily. This is about intervening at a time it would matter."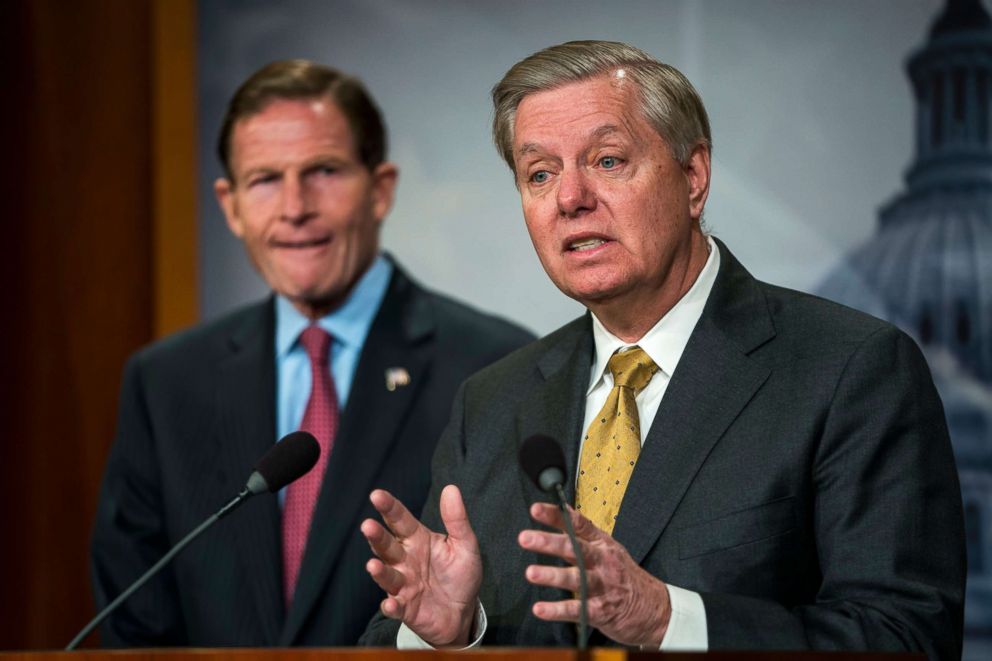 It wouldn't be enough to just call someone 'crazy' and get a protective order, Graham joked. "Somebody says I'm crazy, maybe the best evidence of all is I'm in Congress."
Blumenthal noted that President Trump said he was open to this sort of measure during his marathon meeting with lawmakers on guns. "He referred to it as a 'red flag' law," Blumenthal said. "Here we have a red flag law. Mr. President, where are you?"
WHAT YOU NEED TO KNOW TODAY
• President Trump has no public events. Press secretary Sarah Sanders holds a briefing at 2 p.m.
• Vice President Mike Pence campaigns in Cleveland, Ohio at 12 p.m. for Republican Rep. Steve Stivers, who is running for re-election.
• This Week on 'This Week': The Powerhouse Roundtable debates the week in politics, with ABC News Senior Congressional Correspondent Mary Bruce, Democratic Strategist Donna Brazile, former New Jersey Gov. Chris Christie, and Axios National Political Reporter Jonathan Swan.
QUOTE OF THE DAY
"At this point, we're not even talking about negotiations. What we're talking about is an invitation by the leader of North Korea to meet face-to-face with the president of the United States." – A senior administration official on Thursday after news broke that President Trump had accepted an invitation to meet with Kim Jong Un.
NEED TO READ
Trump agrees to meet with North Korean leader Kim Jong Un on denuclearization. The White House said Trump "will accept the invitation," and the president tweeted, "Great progress being made …" (Jonathan Karl, Katherine Faulders and Jordyn Phelps) http://abcn.ws/2DbS3zu
Talks with North Korea won't stop annual US-South Korea military exercises. In a turnaround, North Korean leader Kim Jong Un told Trump that the rogue nation will not carry out nuclear and missile tests during the two months the U.S. and South Korea will conduct their annual large-scale military exercises on the Korean peninsula. (Luis Martinez) http://abcn.ws/2DcwLSk
Trump defies critics, makes steel and aluminum tariffs official. Steel imports would be hit with a 25 percent tariff and aluminum imports with a 10 percent tariff, with possible exceptions for U.S. allies, including Canada and Mexico. (Jordyn Phelps, Ali Rogin and Meridith McGraw) http://abcn.ws/2G8ql9Q
GOP decries Trump tariffs on steel and aluminum imports. As President Donald Trump presses forward with his plan to levy sharp tariffs on steel and aluminum imports, the president has little to no support among congressional Republicans, and some are strategizing how to block or undo the president's new proclamation. (John Parkinson) http://abcn.ws/2G7h160
Trump ribs outgoing economic adviser as 'globalist' amid uncertainty over tariffs. President Donald Trump in a Thursday Cabinet meeting joked that his outgoing economic adviser Gary Cohn was a "globalist" who could one day return to the administration. (Alexander Mallin and Karen Travers) http://abcn.ws/2oY4gCC
Trump's legal team adds 'pit bull' NYC lawyer to fight porn star. President Donald Trump has added yet another lawyer in his outside legal team — New York attorney Lawrence S. Rosen, multiple sources tell ABC News.(Matthew Mosk and Katherine Faulders) http://abcn.ws/2HkwWgN
Paul Manafort pleads not guilty to an 18-count indictment in Russia probe. Former Trump campaign chairman Paul Manafort appeared in Alexandria, Virginia federal court on Thursday and entered a plea of not guilty to an 18-count indictment as part of Special Counsel Robert Mueller's investigation into Russian meddling in the 2016 presidential election. (Ali Dukakis) http://abcn.ws/2FnV45K
Lewandowski on Capitol Hill for interview in House Russia investigation. Former Trump campaign manager Corey Lewandowski returned to Capitol Hill Thursday for a closed-door interview with the House Intelligence Committee investigating Russian election interference and allegations of collusion between Trump, his associates and Russia. (Benjamin Siegel) http://abcn.ws/2GbppSh
Jared Kushner visits Mexico to repair relations, but leaves US ambassador out. Jared Kushner was in Mexico Wednesday to repair relations with the United States' southern neighbor and key trading partner after a tense phone call between Presidents Donald Trump and Enrique Pena Nieto ended recently with the Mexican leader's canceling a planned visit to America. (Conor Finnegan) http://abcn.ws/2DaUnXn
Second transgender individual signs contract with US military as Trump debates final policy. The person is the second transgender individual to sign a contract since a federal court order required the Pentagon to allow transgender individuals to join the military beginning Jan. 1 if they meet strict criteria, including certification by a medical provider of their health status and treatment associated with the applicant's gender transition. (Elizabeth McLaughlin) http://abcn.ws/2FsH1I0
Interior to spend $139,000 on new doors for Zinke's office. The Interior Department plans to spend more than $139,000 on new doors and repairs for Sec. Ryan Zinke's office at the department's headquarters in Washington, D.C., the agency confirmed to ABC News on Thursday. (Stephanie Ebbs) http://abcn.ws/2FBTiwZ
Tillerson still cleaning up Trump's derogatory comments on day one of Africa trip. On his first trip to Africa, Secretary of State Rex Tillerson is trying to change the subject — but so far, at least African leaders are not quite ready to turn the page on President Trump's reported derogatory comments about the continent. (Conor Finnegan) http://abcn.ws/2p08DwY
The Note is a daily ABC News feature that highlights the key political moments of the day ahead. Please check back on Monday for the latest.