Story Highlights
Six people were killed
Three attackers are dead
48 victims have been transported to hospitals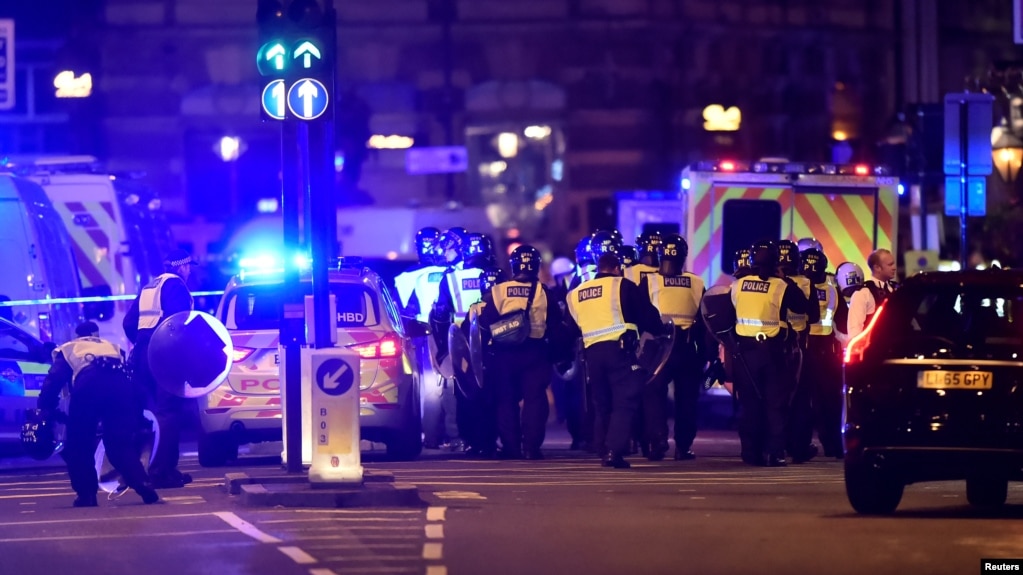 6 killed, 3 suspects dead after 'terrorist incident' in London
ix people were killed, three attackers are dead and 48 victims have been transported to hospitals after a "terrorist incident" in London Saturday night involving a vehicle reportedly plowing into pedestrians on London Bridge and reported stabbings at Borough Market, officials said.
Metropolitan Police Assistant Commissioner Mark Rowley said this is being treated as a "terrorist incident."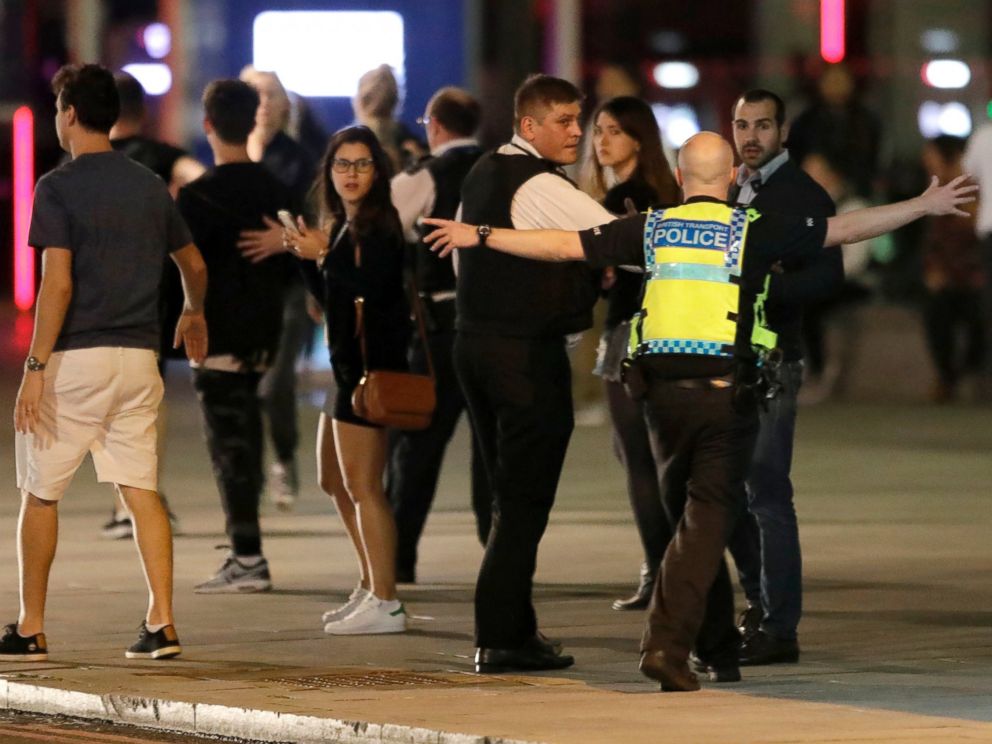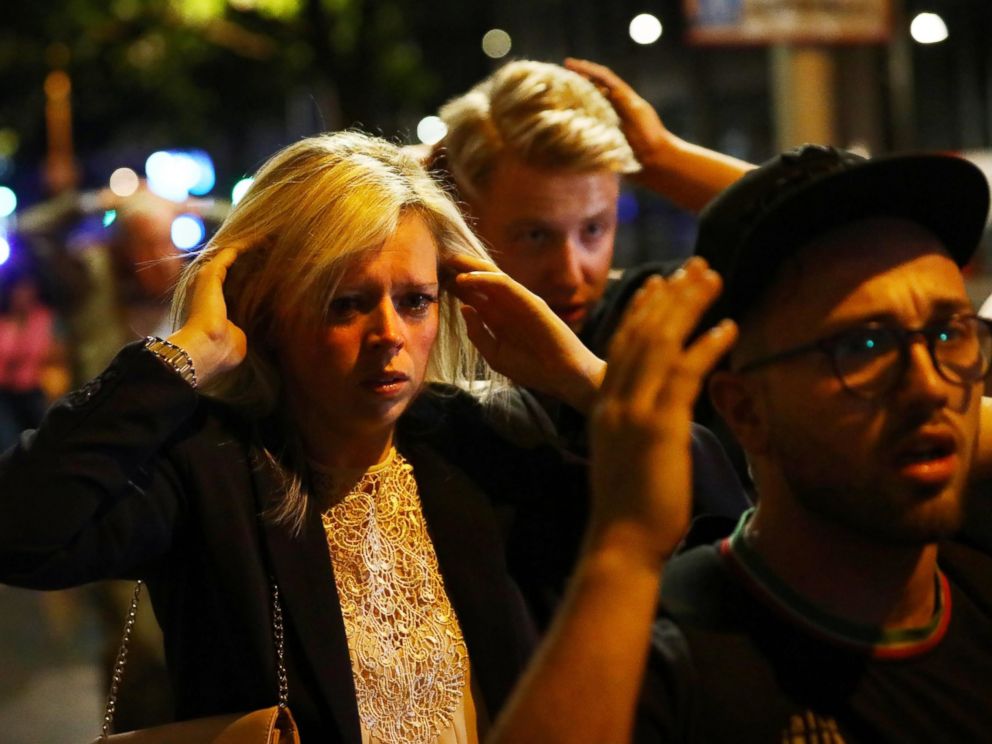 Police said they responded to reports of a vehicle striking pedestrians on London Bridge at about 10 p.m. local time.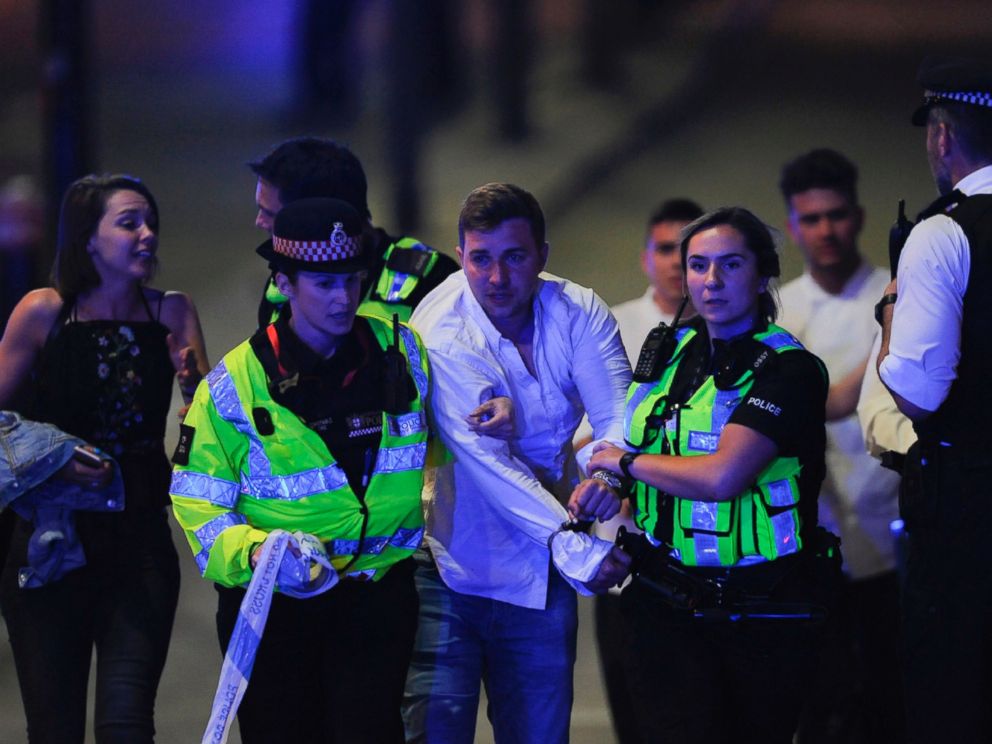 "The vehicle continued to drive from London Bridge to Borough Market," Rowley said. "The suspects then left the vehicle and a number of people were stabbed."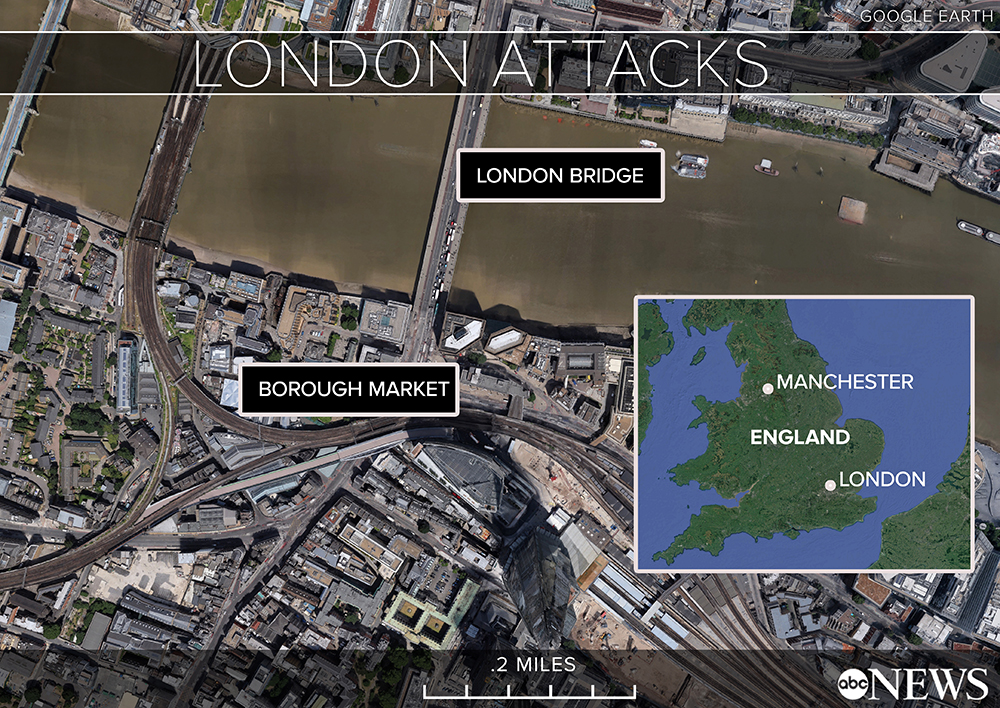 Armed officers confronted the three male suspects, who were shot and killed by authorities in Borough Market, Rowley said.
Police said the suspects were wearing hoax explosive vests.
The suspects were confronted and shot by the police within eight minutes of the first call, Rowley added.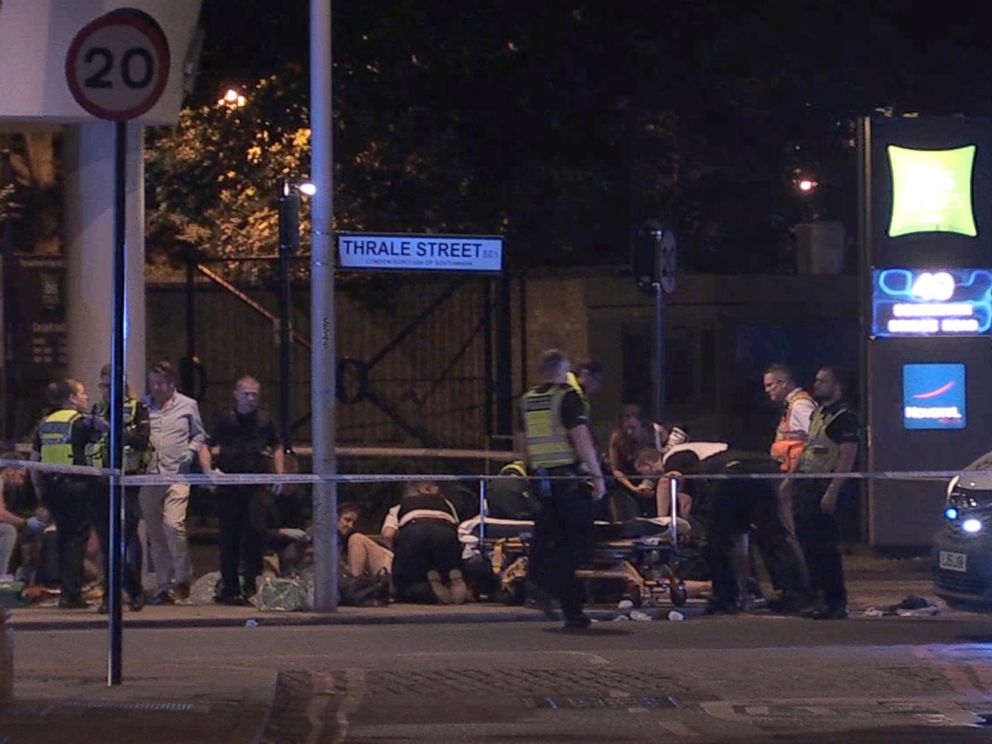 BBC reporter Holly Jones, who was on London Bridge at the time of that incident, told the network that several people were hurt after a white van swerved and hit a crowd of people while it was crossing London Bridge.
"A white van driver came speeding — probably about 50 mph — veered off the road into the crowds of people who were walking along the pavement," she told BBC News. "He swerved right round me and then hit about five or six people. He hit about two people in front of me and then three behind. I'd say there are about four severely injured people. They all have paramedics assisting them at the moment."
This photo taken at 10:10 is a bit clearer. Apologies for taking it (considering the situation), but I did want the scene to be documented . pic.twitter.com/Itc8N5a1gq

— Brad Myers (@bradnolesbest) June 3, 2017
One man told The Associated Press he was finishing dinner in Borough Market when a woman "came running in and said there was a person out there wielding some kind of knife … The manager of the restaurant herded everybody together and took us upstairs to the staff quarters and we sat there for an hour and a half during which time we heard three separate volleys of gunfire, quite well-timed apart. They weren't very quick. There was one series, then another, then another."
Later the man said they were told to leave the restaurant. "We had to run out with our hands on our heads and just keep running," he told the AP.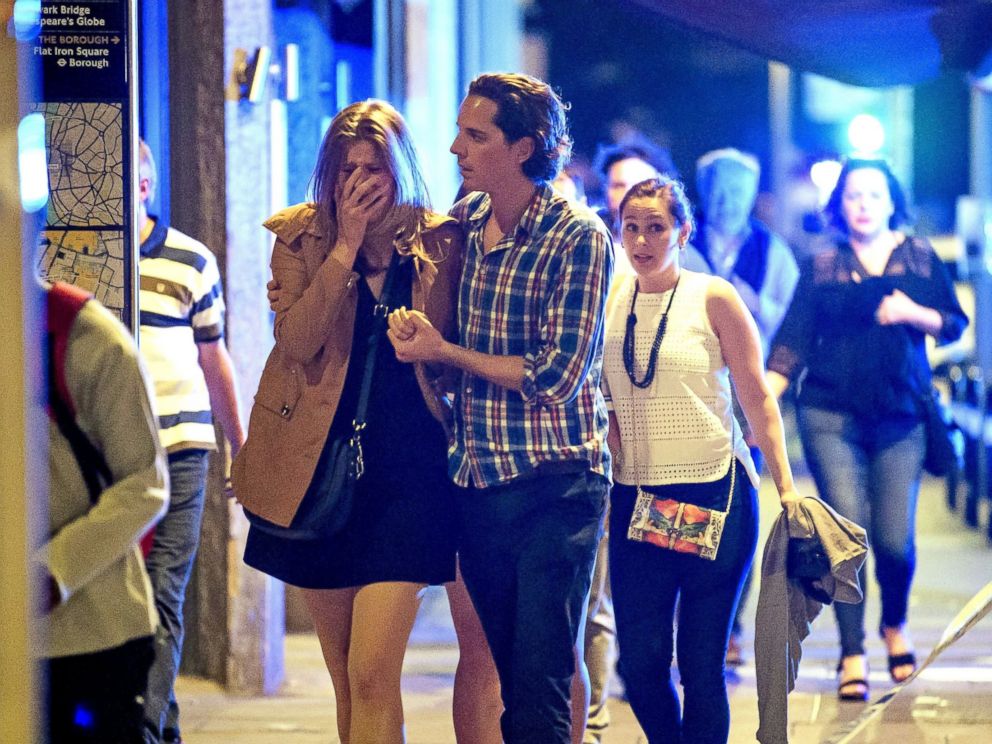 The London Ambulance Service's assistant director of operations, Peter Rhodes, said in a statement early Sunday morning that 48 people were taken to five hospitals and that "a number of others" were treated at the scene for "minor injuries, all in connection with the London Bridge incident. Rhodes added, "We sent over 80 of our medics to the scene including ambulance crews, advanced paramedics, specialist response teams and an advanced trauma team from London's Air Ambulance."
At a press conference Sunday morning, London mayor Sadiq Khan said of those transported to hospitals, "some of them I'm afraid are critical."
He also said the number of casualties could have been higher had EMS workers not been so quick to respond. "The emergency services reacted heroically and brilliantly last night," Khan said. "Not only did they tackle the terrorist, but they helped the injured. And as a result of their swift action, fewer people have died than would otherwise have been the case, but also the severity of the injuries are less bad than they could have been."
While a complete rundown of the nationalities of the victims and injured has not yet been provided, French President Emmanuel Macron said French citizens are among the wounded.
Khan was asked if it was a mistake for the country's threat level to be reduced from critical to severe on May 27 in light of Saturday's attack. "No, I don't think so," he said. "In the immediate days following the Manchester attack it was raised to critical because the police and experts were still pursuing lines of inquiries and they weren't sure if any other people were involved in the attack at Manchester … critical means an attack is imminent … they've reduced it to severe but it's still a very high level. That means an attack is highly likely."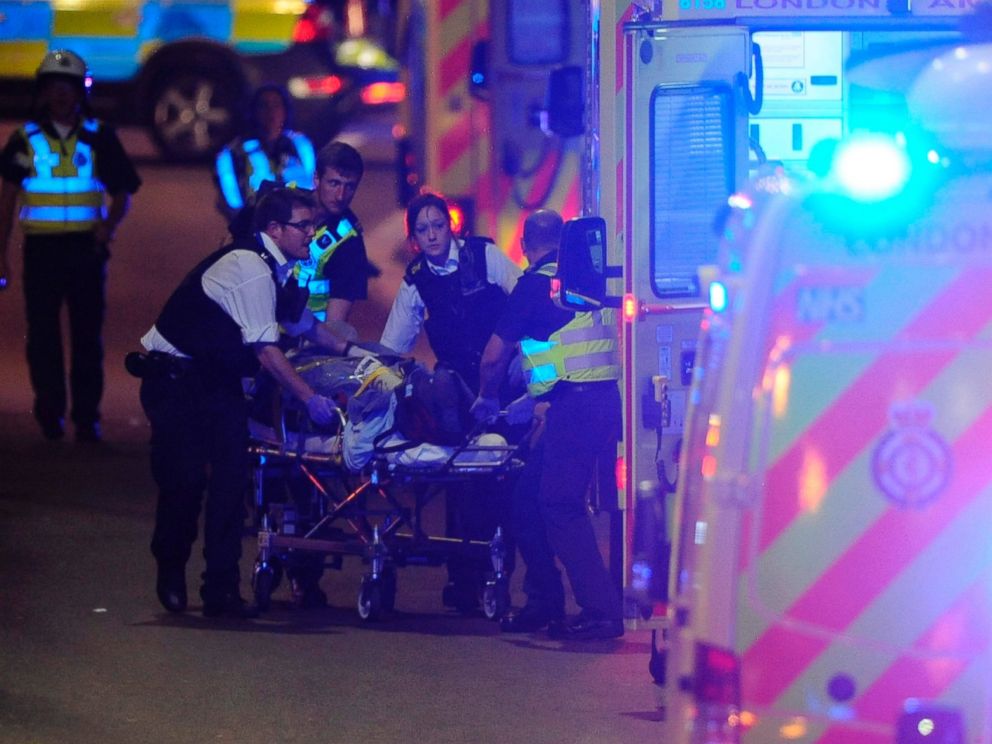 British Transport Police said one of its officers is among the injured. The officer was one of the first to arrive at the London Bridge scene and his condition is characterized as serious but non-life-threatening, the British Transport Police said.
Police are urging the public to avoid London Bridge and Borough Market. Anyone with images or film of the incident is asked to upload them at www.ukpoliceimageappeal.co.uk, police said.
London Bridge is normally crowded on Saturday nights, and Borough Market is a popular area packed with bars and restaurants a short distance from the bridge.
Rowley said the police "are reviewing and planning to strengthen our policing stance across London over the forthcoming days, and there will be additional police and officers deployed across the Capital."
He added, "I would like to ask the public to remain vigilant and let us know if they see anything suspicious that causes them concern and dial 999 immediately."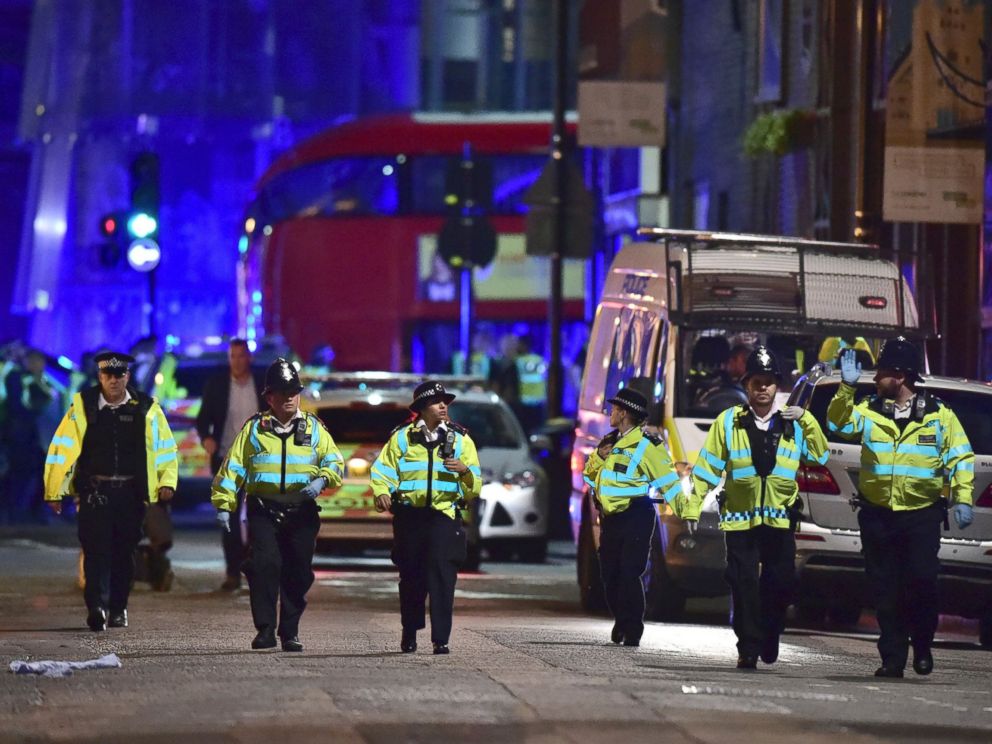 British Prime Minister Theresa May said in a statement Saturday night that the incidents are "being treated as a potential act of terrorism."
She said, "I want to express my huge gratitude to the police and emergency services who are on the scene. Our thoughts are with those who are caught up in these dreadful events."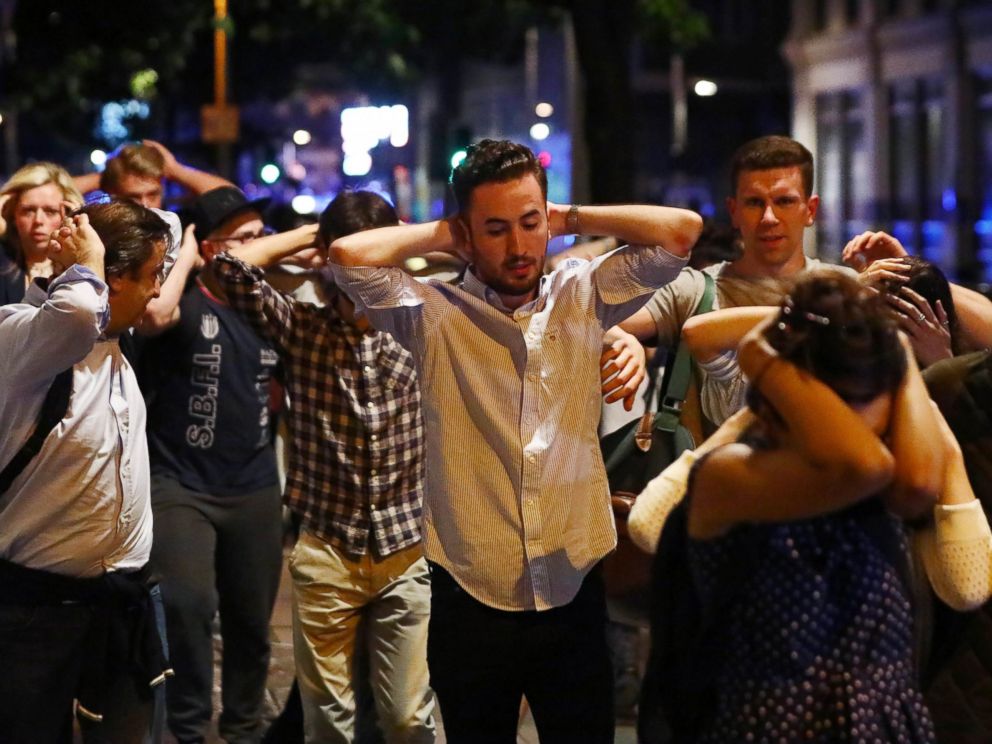 London Mayor Sadiq Khan, who also called the incidents terrorism, said in a statement, "This was a deliberate and cowardly attack on innocent Londoners and visitors to our city enjoying their Saturday night. I condemn it in the strongest possible terms. There is no justification whatsoever for such barbaric acts."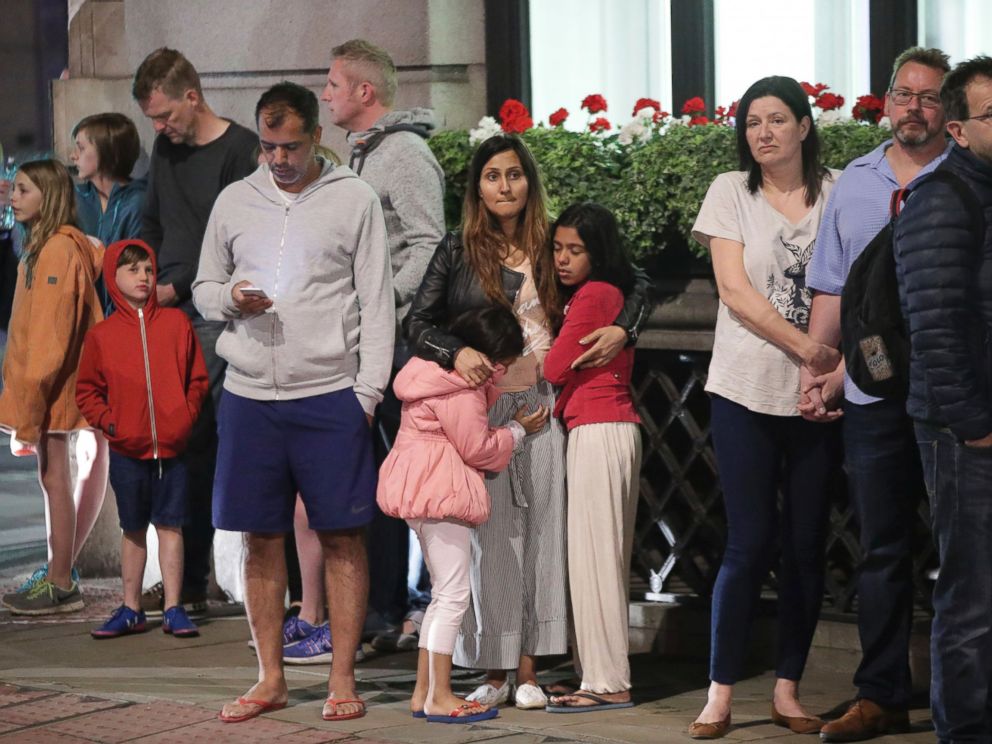 President Donald Trump was briefed on the situation and spoke with Prime Minister May to offer his condolences. The White House said Trump "praised the heroic response of police and other first responders and offered the full support of the United States Government in investigating and bringing those responsible for these heinous acts to justice."
The U.S. State Department condemned the incidents, saying in a statement, "The United States stands ready to provide any assistance authorities in the United Kingdom may request. Our hearts are with the families and loved ones of the victims. We wish a full and quick recovery to those injured in the attacks."
The U.S. Embassy in London said, "We are closely monitoring the incidents in London. Our thoughts are with the family and friends of those affected by this terrible situation … We stand ready to provide all possible consular assistance should we become aware of any affected U.S. citizens."
Also Saturday night, police reported a stabbing incident in London's Vauxhall neighborhood, but police have since said that it is not connected to the incidents on London Bridge and at Borough Market.
This is a developing story. Please check back for more updates.