While most of the Northeast is still cleaning up and digging out from the second nor'easter to hit the Northeast in a week, some computer models are hinting there is a chance for a third nor'easter.
Interested in
Weather?
Add Weather as an interest to stay up to date on the latest Weather news, video, and analysis from ABC News.
There are still 435,000 customers without power in the Northeast on Friday morning, including 169,000 in Massachusetts and 141,000 in New Jersey.
The latest computer models continue to be split on whether there is going to be a third nor'easter. Most models agree there is going to be a storm system moving through the South with severe storms Saturday into Sunday along the Gulf Coast from Arkansas to Florida.
These storms could produce damaging winds, some hail and we cannot rule out tornadoes.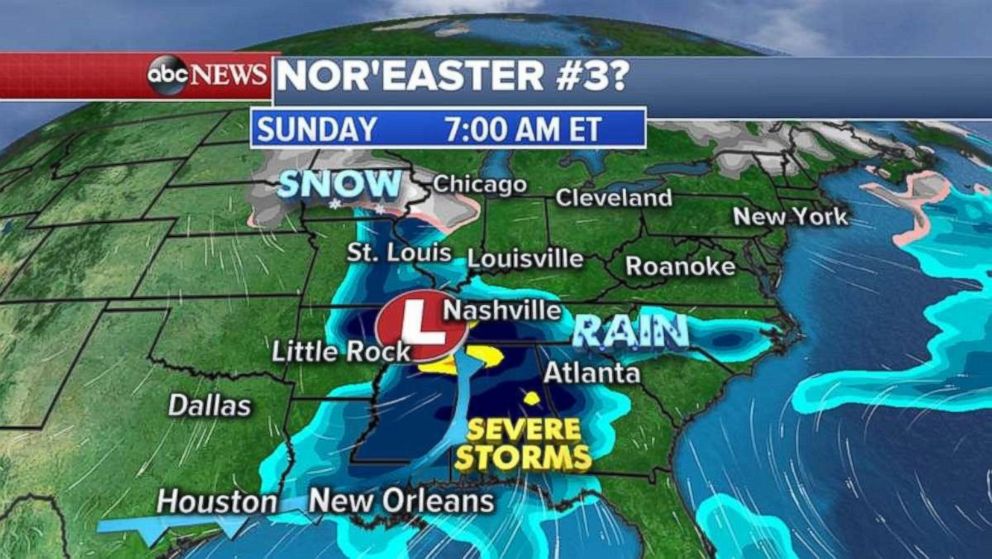 As the storm moves east, the models split.
American model
The American model keeps the storm much larger and colder, showing a chance of snow from St. Louis to most of Kentucky into Nashville, Tennessee, and into the southern Appalachian Mountains on Sunday evening.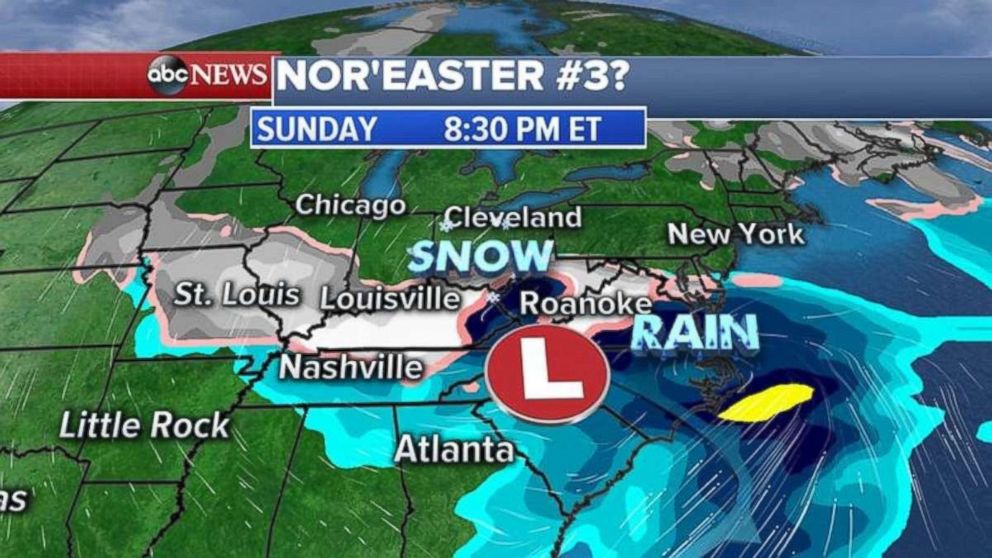 The storm will redevelop Monday morning off the Mid-Atlantic coast and bring snow from Washington, D.C. to New York City.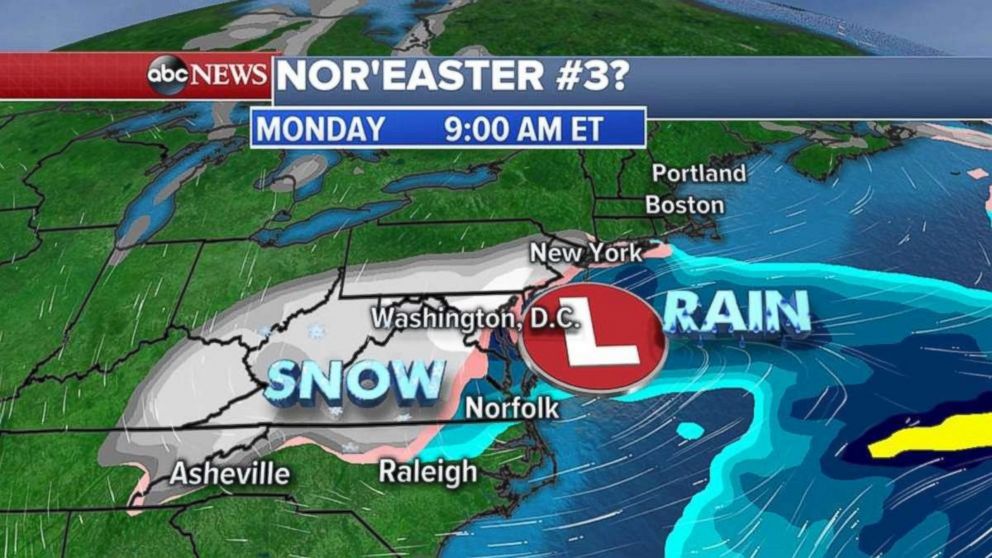 By Monday afternoon, the coastal low will strengthen, similar to the storm we just had, and move up the coast bringing heavy snow for most of the I-95 corridor from Washington, D.C. to Boston and into Maine.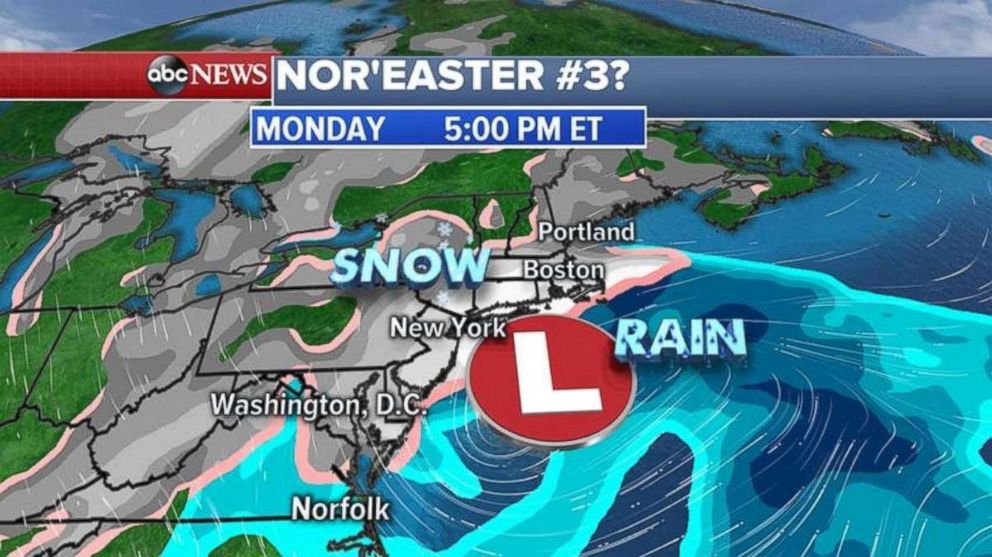 European model
The European model continues to disagree this morning, showing a much weaker storm system along the Carolina coast on Monday with mostly rain during the day and evening.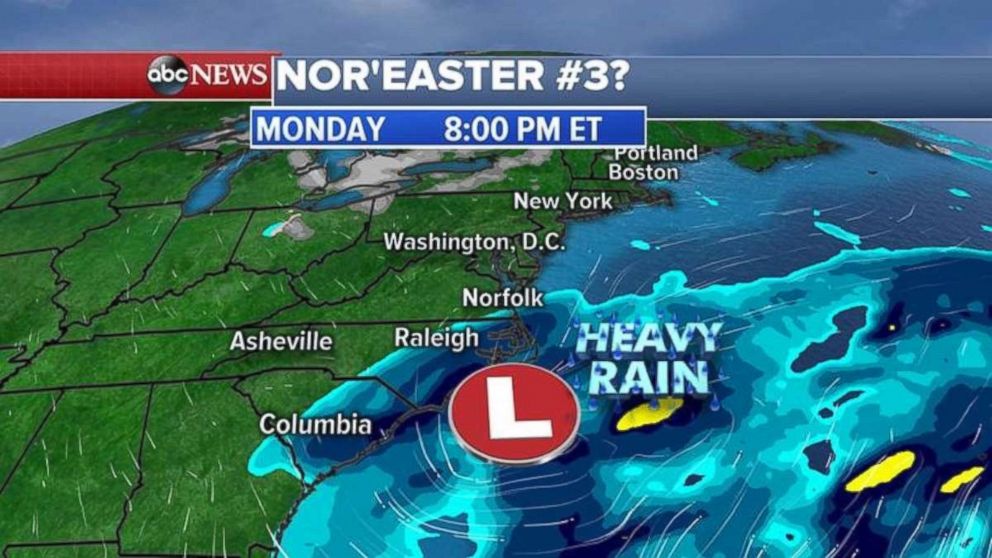 By Monday night, according to the European model, the storm system moves off the Carolina coast and brings no precipitation to the Northeast.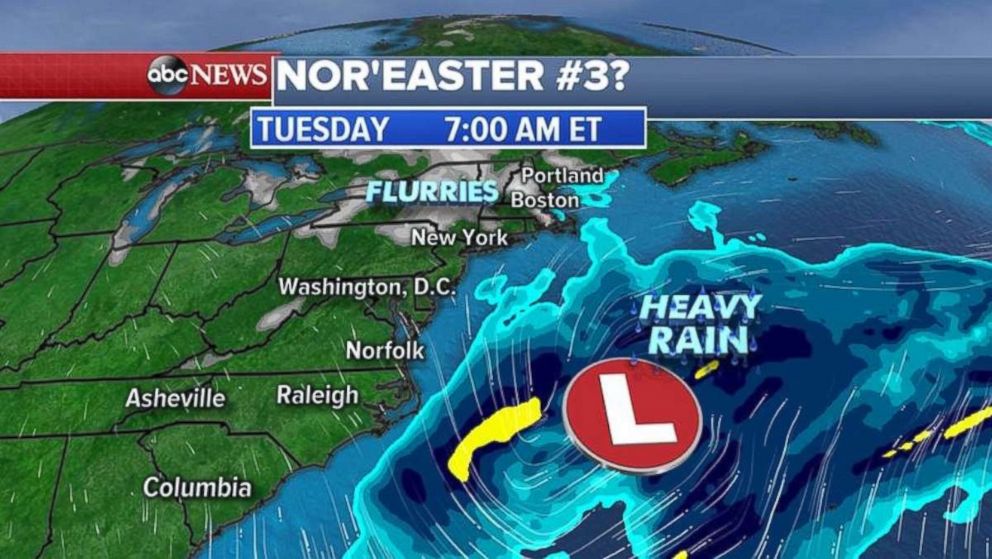 Cold is coming
Regardless of the track of the storm, both the European and American models agree that cold, February-like weather will continue into the middle of March.
One of the coldest days will be next Wednesday when wind chills will drop into the single-digits and teens from the Midwest into the Northeast. Even from the Tennessee River Valley to the Carolinas, wind chills will be in the 20s Wednesday morning. Winter is not over.