'The neighborhood is gone,' Santa Rosa resident says after wildfire destroys home
The woman was found dead in the driveway of her home in Santa Rosa, Sonoma County
Curated by:
Prince Adeyemi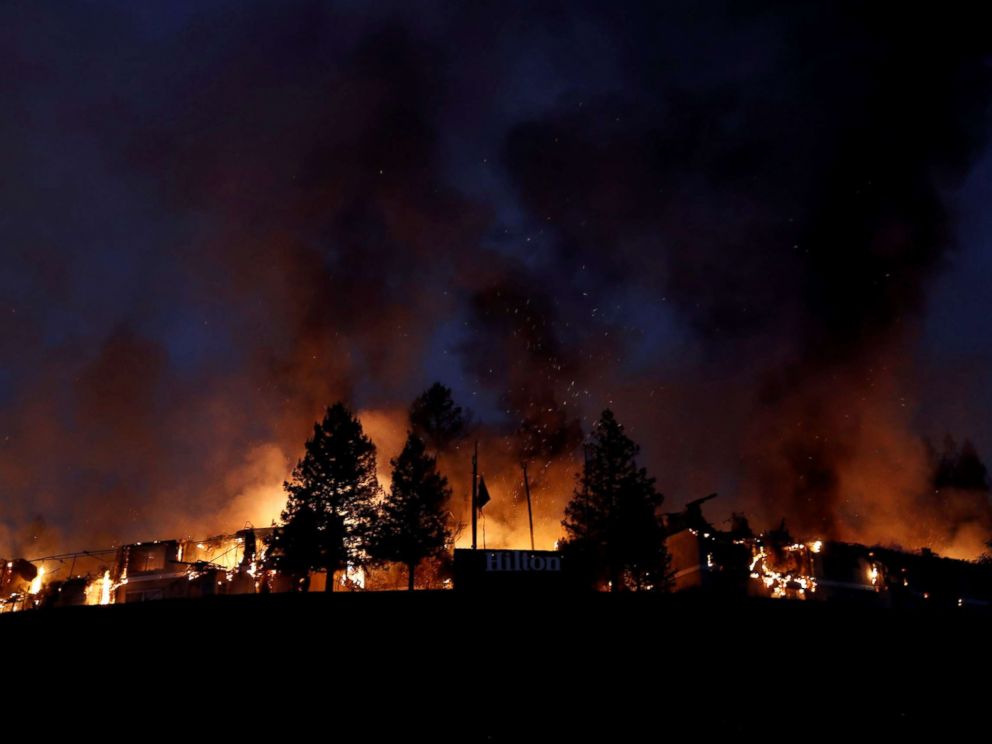 'The neighborhood is gone,' Santa Rosa resident says after wildfire destroys home

ntire neighborhoods were scorched beyond recognition in the city of Santa Rosa, California, where at least seven residents died after fast-moving wildfires tore through the city.
The Tubbs fire — one of 17 blazes that swept through multiple counties in the Golden State on Monday — wiped out whole city blocks, destroying homes, businesses, schools, and even a new fire station.
City officials said resources had been spread thin as county and city fire workers battled the blaze. The Tubbs fire swept through 27,000 acres of land as of late Monday, and authorities said there was no containment.
All public schools in the city were closed on Tuesday and evacuated residents were told not to return home until further notice. Governor Jerry Brown declared a state of emergency on Monday as the fires intensified.
Thousands of residents were displaced by the fires, according to the city's mayor.
"I'm lucky. My house is fine, my family is fine, but my city is not," Santa Rosa Mayor Chris Coursey said at a press conference Monday. "It's going to take a long time for us to recover from what happened today."
Patients at the Kaiser Permanente and Sutter Santa Rosa Regional hospitals in Santa Rosa were forced to evacuate early Monday as flames tore through surrounding neighborhoods.
St. Joseph Health said about 170 patients have been treated, many for burns and smoke inhalation, at three of its hospitals, including two in Sonoma County, which encompasses Santa Rosa. At least 90 of those patients were taken to a facility in Santa Rosa, including 12 patients who suffered from burn injuries.
Santa Rosa homeowner John Graves said he was mourning after most of his neighborhood was leveled.
"I've been here 25 years. It was a great neighborhood," Graves told ABC's San Francisco station KGO on Monday. "It's gonna be a lot of work getting it back."
Kim Hoe, a 33-year-old tech worker visiting from Penang, Malaysia, said he was staying at the Hilton Sonoma Wine Country in Santa Rosa, which was destroyed by flames.
City has imposed curfew in Mandatory Evacuation Areas between 6:45pm & 7:15am. Violation punishable as misdemeanor. https://t.co/hN4IJTvmxG.

— City of Santa Rosa (@CityofSantaRosa) October 10, 2017
He said he and his colleagues began to pack up Monday morning when someone knocked on the hotel door and told them to run.
"We just had to run and run. It was full of smoke. We could barely breathe," Hoe told KGO.
At least 11 people were killed and more than 170 were injured as a result of wildfires across the state, authorities said.
Officials with the California Highway Patrol described one of the dead as an elderly woman who was blind and hard of hearing, according to ABC's San Francisco station KGO.
The woman was found dead in the driveway of her home in Santa Rosa, Sonoma County, according to the officials, who suspected that she may have been trying to escape the flames when she she died.
Details on the other victims have not been released yet.
The fires, intensified by strong winds, charred about 90,000 acres of land and destroyed at least 1,500 homes and structures statewide.
Thanks for reading
Vegas Newspaper
Join us on Facebook