Launching a drone during a global lockdown might not sound like a great idea, but the DJI Mavic Air 2 is preparing for lift-off – and despite the seemingly inauspicious timing, it could well turn out to be DJI's most popular drone yet.
A mid-range follow-up to the DJI Mavic Air from 2018, it's shaping up to be an affordable 4K drone with all the beginner-friendly flying smarts we've come to expect from DJI, plus a few bonus extras.
An official DJI launch event has been scheduled for April 27 at 9.30pm EDT / 2.30am BST / 11.30am AEST. And given the DJI Mavic Air 2's packaging and controller seem to have leaked, it's fair to assume this will be for the announcement of the new drone.
https://t.co/HP98ZzTTQq pic.twitter.com/RnAuDEwuI5April 15, 2020
If you're not familiar with DJI's drone range, the Mavic Air has traditionally been the Chinese company's mid-range model. The original version was designed for beginners and hobbyists who wanted a small, travel-friendly drone that was a bit more powerful than the more recent DJI Mavic Mini. The current model shoots 4K video and folds down into compact, 430g bundle that easily fits into a backpack.
From the recent leaks, it looks like DJI has moved slightly away from this design for the Mavic Air 2, with the new model looking more like the DJI Mavic 2 Pro. Still, it is shaping up to be smaller than that model and fold down into a very portable form factor.
This means it will again sit in between the smaller DJI Mavic Mini and the pricier Mavic 2 Pro, which is currently the top pick in our best drones roundup.
Will it stay there when the DJI Mavic Air 2 arrives? The rumors so far suggest the new model could well be the best drone for most people – here's everything we know about it so far…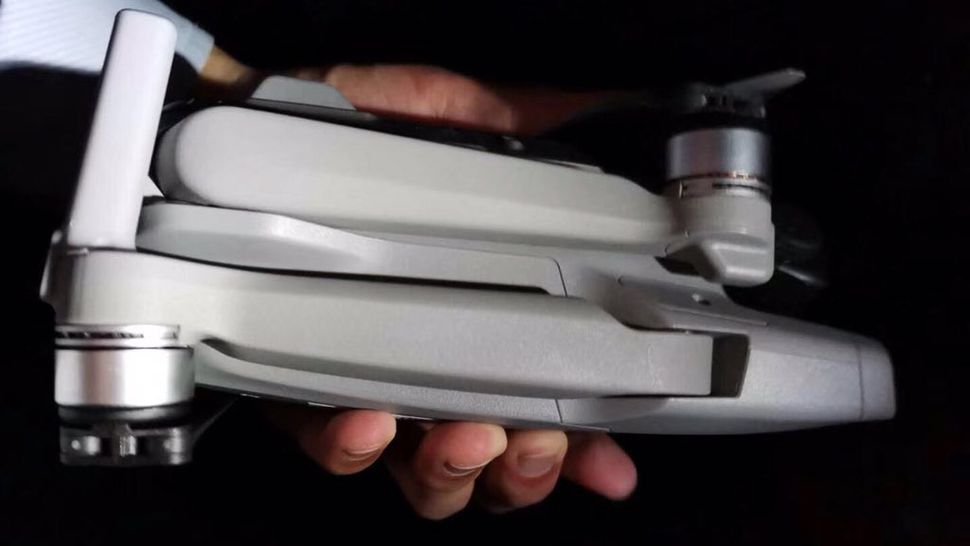 DJI Mavic Air 2: release date and price
Given the major recent leak of DJI Mavic Air 2's packaging, it looks almost certain that the drone will be announced at DJI's event on April 27.
There is naturally some uncertainty about availability due to the knock-on effects of the global pandemic – even if the Mavic Air 2 is announced on April 27, it's not yet clear if it'll be immediately available to buy or instead open to pre-orders. We'll have to wait till the event to find out for sure.
What we do know, if the latest leak from DroneDJ turns out to be correct, is that the DJI Mavic Air 2 will cost $799. That's the price that the original Mavic Air launched for back in January 2018. So far, only US pricing has been leaked, but the Mavic Air was available for £769 / AU$1,299 when it first arrived, so its successor seems likely to follow suit.
This would put it almost exactly halfway between the two other current drones in DJI's lineup. The smaller, beginner-friendly DJI Mavic Mini costs $399 / £369 / AU$599, while the DJI Mavic 2 Pro hasn't moved a great deal from its original $1,599 / £1,349 / $2,499 price tag.
This would make the new DJI Mavic the new mid-range option in its lineup, and this is backed up by the leaks so far…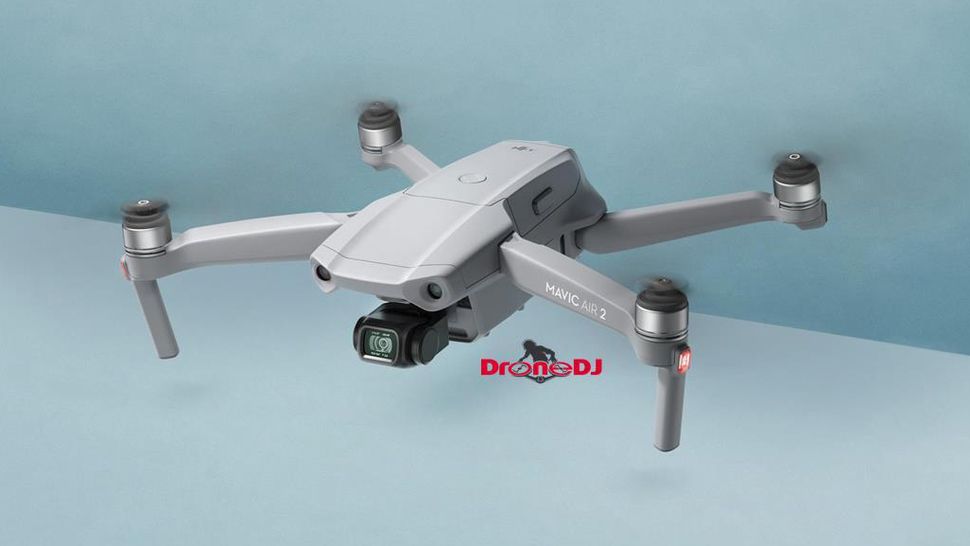 DJI Mavic Air 2: design
We now appear to have several leaked press images of the DJI Mavic Air 2, which were picked up by DroneDJ. These build on a couple of previous photo leaks and give us a good idea of what we can expect.
The earliest leaked photos of the Mavic Air 2 came from Kanzhaji in March, which appeared to show a new drone that closely resembles the Mavic 2 series, only with a smaller form factor.
Then photo leaks from Brazilian site DroneFriendly and Brazilian YouTuber Dronemodelismo (below) helped back this up. Like its predecessor, these showed a folding drone, whose four arms can neatly fold away to help it it squeeze into a backpack.
What the latest leaks reveal is the Mavic Air 2's expected size. In particular, the handheld shot (below) reveals that while the new drone looks a lot like the Mavic 2 series, it's also significantly smaller. Perhaps not as small as the original Mavic Air, but certainly more portable and travel-friendly that the Mavic 2 Pro and Mavic 2 Zoom.
Image 1 of 6
Image 2 of 6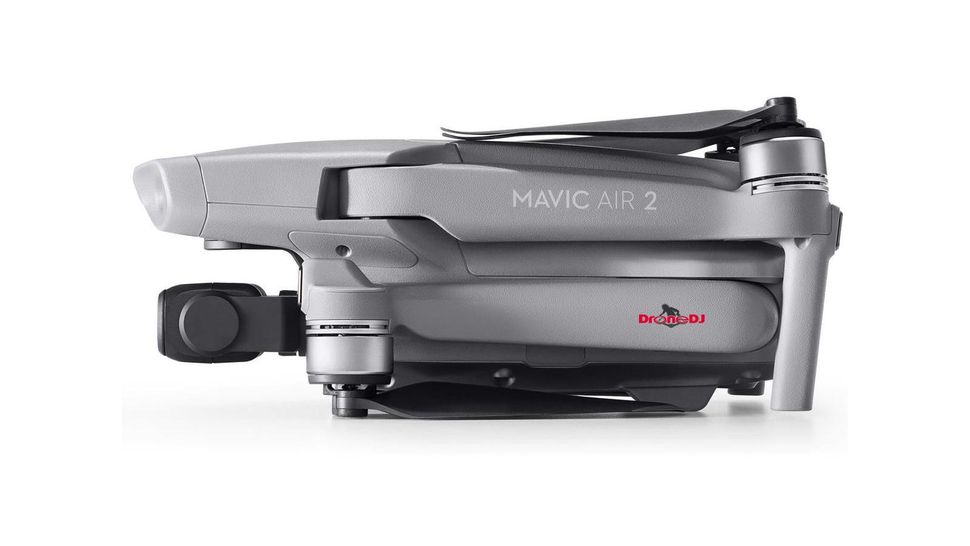 Image 3 of 6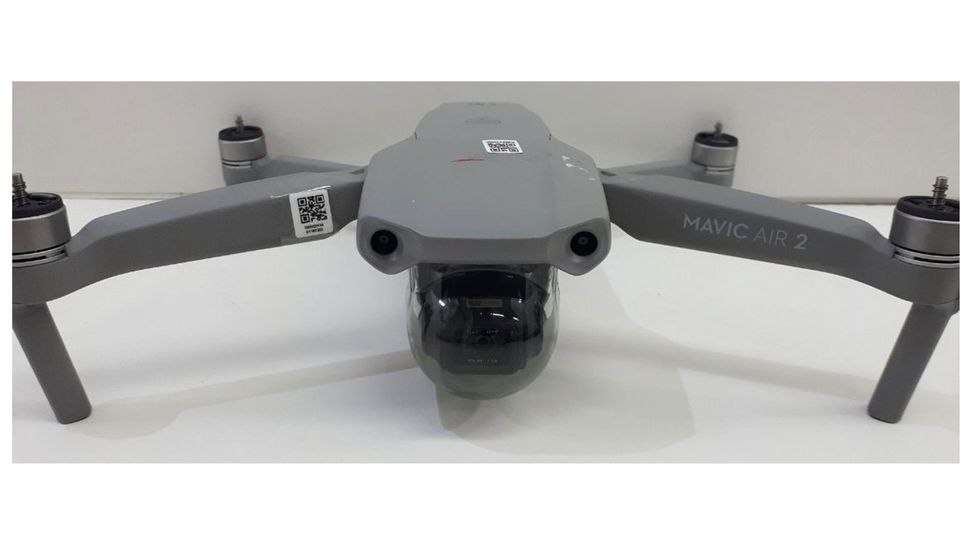 Image 4 of 6
Image 5 of 6
Image 6 of 6
Contrary to earlier rumors, the recent leaked DJI Mavic Air 2 images suggest it will have the same obstacle avoidance sensors as its predecessor. This includes one on the front, back and underneath the drone, but it appears to lack the 360-degree vision seen on the Mavic 2 series.
That's a slight shame, but is understandable given the expected price difference between the two drones. Not that the Mavic Air 2 will be difficult to fly without those sensors – its busy underside appears to include DJI's dual vision system, infrared sensors and auxiliary LEDs to help the drone avoid obstacles and find its landing spot.
DJI's software and Return-to-Home smarts are also very reliable, and we're expecting it to add AirSense to further improve its flying safety (more on that below).
The latest leaked Mavic Air 2 images also give us a good look at its camera module. This camera will be held steady by a three-axis gimbal and, as the text above the lens shows, will have a new 1/2-inch CMOS sensor, which will be larger than its predecessor's 1/2.3-inch chip. That should help it retain image quality when the light begins to fade.
The Mavic Air 2's overall design also appears to have been confirmed by the most recent leak from regular DJI leaker OsitaLV on Twitter. This appears to show the drone's retail packaging, although it's still not yet clear when the Mavic Air 2 will be available to buy or how its stock has been affected by the global pandemic.
Looks like someone has got it already. pic.twitter.com/CFxhgYKXfAApril 26, 2020
One other big change on the Mavic Air 2 appears to be its controller, which appeared in earlier leaks and will have a very different design – for both good and bad…
Image 1 of 2
Image 2 of 2
DJI Mavic Air 2: controller
The latest (and perhaps last) DJI Mavic Air 2 leaks appear to reveal its new controller, which is a complete redesign from the Mavic Air's pad.
The new controller is much bigger, for a start, which may irk those who liked its predecessor's more travel-friendly design. That said, there are a couple probable improvements. One is that you'll be able to mount your phone on top of the controller, rather than below it, which makes sense to us.
The other is the controller and drone will support Ocusync 2.0. This would bring significantly improved range of at least 8km, which is a huge leap from the Mavic Air's more restrictive 2km range and would, quite literally, take the Mavic Air 2 into new territory. It should also mean a much more stable signal than its predecessor.
What about the rest of its design? Rather than a single switch in the middle for Sport mode, there now seems to be a three-way toggle for Normal, Sport and Tripod modes. The latter is a useful intelligent flight mode, which limits your drone's speed and helps you get smoother set piece shots. Sport mode, meanwhile, effectively turns DJI drones into a racing drone, allowing you to hit faster top speeds (42.5mph, in the Mavic Air's case) and keep up with fast-moving objects.
Otherwise, the controller has the usual 'return-to-home' button, function button and battery status lights. From the photo, it also appears to have the handy screw-in joysticks, which means you can unscrew them when you're not flying so the controller slips into backpacks much more easily.
DJI Mavic Air 2: specs and features
A big leak from Brazilian website Dronemodelismo recently revealed the Mavic Air 2's user manual, which gives us a good idea of its specs.
As expected, the Mavic Air 2 will again have a three-axis gimbal, which will hold a camera capable of shooting 4K/60p video and 48MP photos (likely stitched together from a 12MP sensor).
There will also be some updated Intelligent Flight modes, including ActiveTrack 3.0, which should make it even easier for the camera to automatically track objects as you're flying.
It also looks likely that the Mavic Air 2 will a 1/2-inch CMOS sensor, which is slightly larger than its predecessor's 1/2.3-in chip, but won't quite have the light-gathering powers of the Mavic 2 Pro's one-inch sensor.
Still, according to an even more recent leak from OsitaLV on Twitter, the Mavic Air 2 will be able to shoot 4K/60p video with a bit-rate of 120mbps, which is a step up from the Mavic Air in terms of both frame-rates and data rates. You'll also apparently be able to shoot slo-mo 1080p at 240fps, HDR video and Hyperlapses.
4K60p120mbps1080p240fpsHyperlapse confirmedHDR videoWell, prepare your money. pic.twitter.com/QXGrbazcquApril 27, 2020
Another big improvement will be battery life – according to the leaked manual, the Mavic Air 2 will have a flight time of 34 minutes, which is impressive and longer than we expected from its 3,500mAh battery. That's a 13-minute boost over the original Mavic Air.
One other thing we can be sure of is that the Mavic Air 2 will have a new safety system called AirSense.
DJI said last year that all new drones it releases from 2020 (that weigh over 250g) will include AirSense tech, which receives ADS-B signals from nearby airplanes and helicopters and warns you if they're on a collision course with your drone.
Early verdict
If there was still any doubt about the DJI Mavic Air 2 launching soon, then the recent leaks of its official photos, packaging and user manual has removed that – it's now clear that the mid-range drone is very likely landing on April 27.
Of course, there are still big questions about the Mavic Air 2, with its on-sale date and availability being the main one. But we now know a lot more about it, including the fact it'll likely have far superior flying range to the original Mavic Air and a significantly better battery life.
Those who were fans of the latter's compact form might be disappointed by the Mavic Air 2's apparently much larger dimensions, but it's shaping up to be a fine choice for non-professionals who want a capable, travel-friendly drone. We'll bring you all of the official news as soon as we get it.